Leave all your worries and cleanup to Zaferan!!
Cleanup Zaferan is located in Kasukabe, Saitama Prefecture. We will assist anyone in Tokyo, Kanazawa, Chiba, Ibaraki and Gunma prefectures (mainly in Saitama).
Please contact us for any cleaning, tidying up, removals or purchases, mowing, roof painting, rain gutter replacement, signboards, electrical work, tatami mat replacement, etc.
Call us about your needs. We will assess your needs and set a reasonable estimate for our services.
On-site Assessment
Once we receive your call, we will generally travel to your location to assess the situation and provide you with a price.
Once we are satisfied with the price, we will begin the work.
Of course, we do not charge a business trip fee.
If we are unable to visit the site, please send us photos of the site and we will assess the work. In this case, there may be a slight +/- charge depending on the actual amount of work.
Photos can be sent as an attachment from Contact Us.
Why Zaferan?
Zaferan was first established as a remodeling company. For 30 years, we have been remodeling individual homes, corporate offices and stores. In remodeling there are always items which are unnecessary and need to be disposed of. Items that can be reused or repurposed may be purchased. Therefore, resources are not wasted.
Based on our know-how cultivated in our remodeling business, Zaferan has branched out into a business specializing in clean up. So leave your worries behind you and leave it to Zaferan for your clean up needs.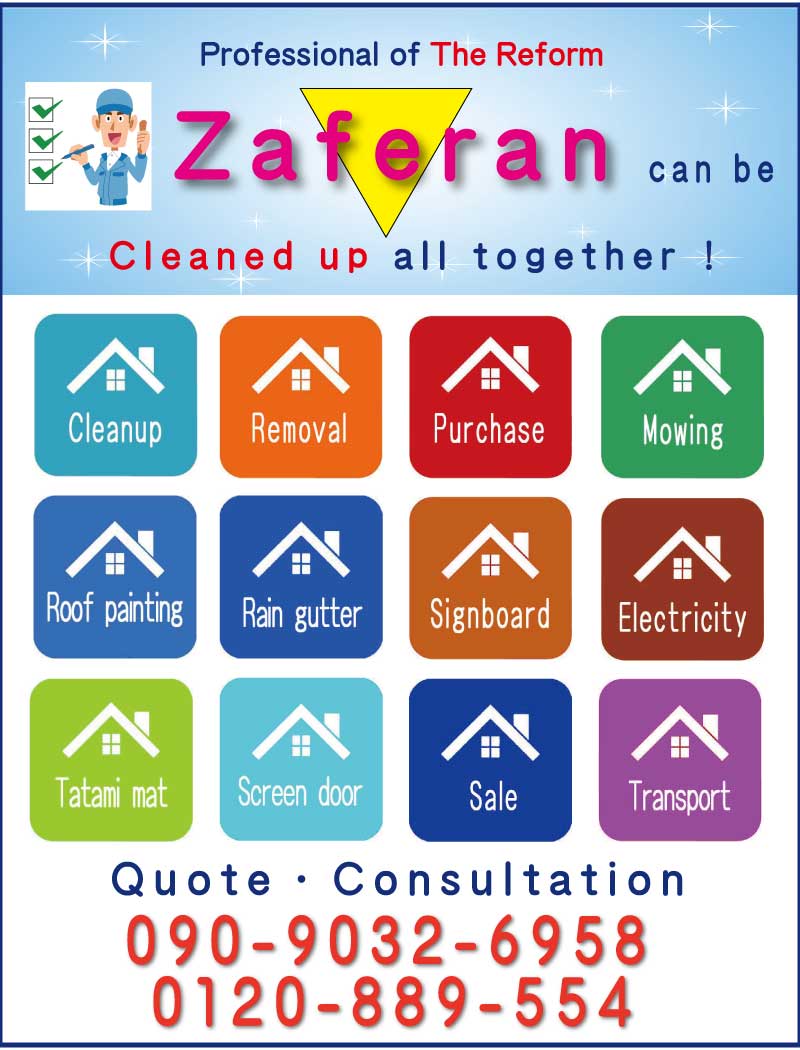 First call us for a reasonable estimate.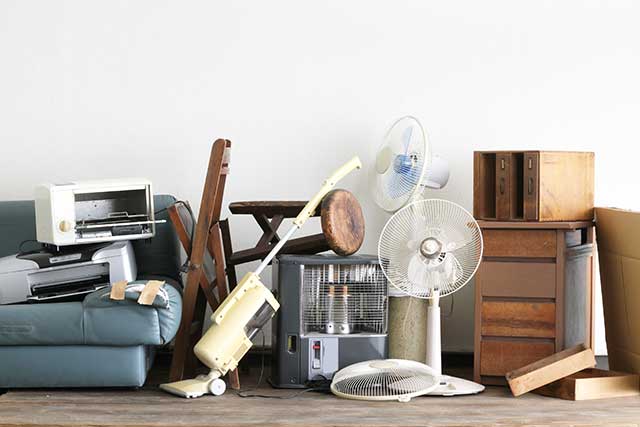 Cleanup service for individuals
Please leave the disposal of unnecessary items generated by moving or remodeling to us.
In addition to disposing of garbage and oversized items, we also purchase unneeded home appliances and PCs.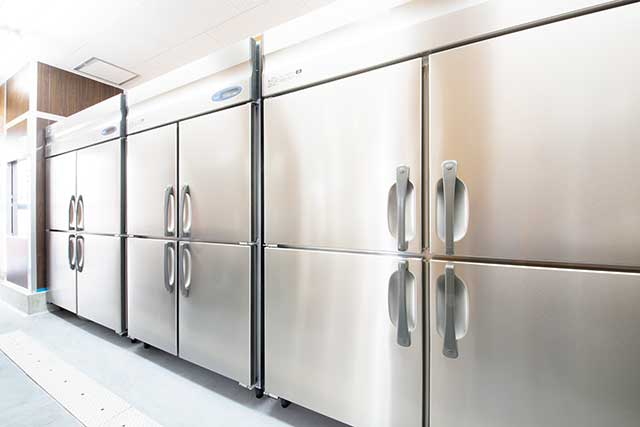 Cleanup service for corporations
Zaferan will take care of all unnecessary items such as office furniture, OA and IT equipment, kitchen items, chairs, tables, etc. from companies, factories, warehouses and offices at the time of renewal.
Business content
Let's work together to become a source and power to a better society!
If you were thinking of throwing something away, we can recycle it or reuse it.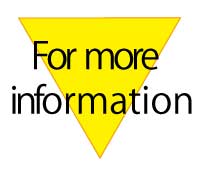 Cleanup
Please leave it to us to clean, organize and clean up your home, clean your garden, or clean, organize and clean up your office.
We thoroughly clean and tidy up bathrooms, toilets, kitchens, and all other rooms in a house or apartment. We also organize your belongings for moving.
Please leave cleaning and tidying up your home, office or warehouse to us.
We will not only dispose of garbage, also dispose of or possibly purchase unneeded items.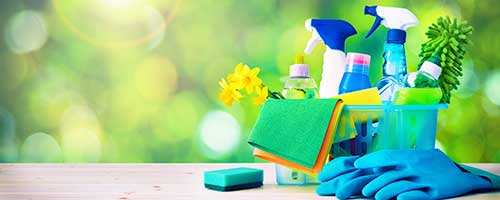 Removal
We will remove and dispose of unneeded items and waste items from your home. Please leave the unused and scrap items from the office or warehouse to us. We will not only dispose of garbage, but also dispose of unneeded items or possibly purchase them.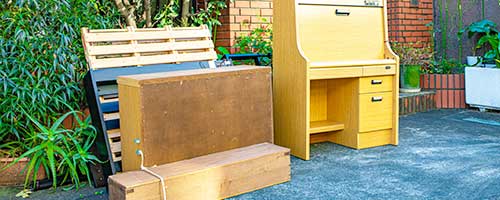 Purchase
We can recycle any unused items that surfaced when you moved or renewed your house by purchasing them. If you think it is a waste to throw something away, please contact us and we can come to an agreement to purchase it.
We buy home appliances, audio equipment, furniture, clothes, PCs, smartphones, tablets, clothes, baby products, brand named products, etc.
We also buy unnecessary office and restaurant equipment such as, desks, tables and chairs, lockers, IT equipment, kitchen equipment, etc.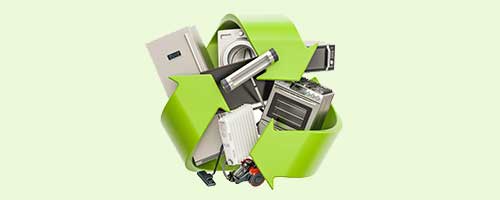 Mowing
If your garden has become overgrown with weeds and tall grass, or bushes and trees need pruning, call us. Let Zaferan take care of your gardening needs. Zaferan will also dispose of the cut debris.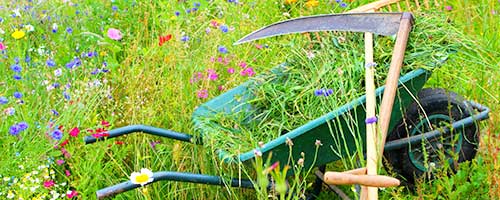 Roof painting
Roofs and walls of houses require regular maintenance. If your roof or walls need a fresh coat of paint, leave it to Zaferan.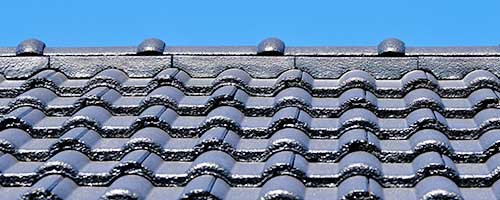 Rain gutter exchange
Due to the recent abnormal weather, damage from heavy rain has become a serious problem.
Has a rain gutter on your house or business become broken? Does rain water fall anywhere it wants every time it rains? Please contact us for your rain gutter repairs.
Signboard
Please leave the design and production of company and shop signboards to Zaferan. Your shop or company can stand out with just one sign.
Zaferan will consult with you about everything from design to size and shape.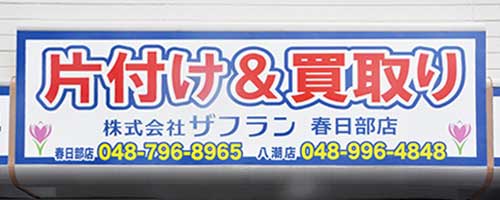 Electrical construction work
Electrical work may be required depending on the remodeling of a house or the placement of furniture in a company or store.
In such cases, Zaferan can respond immediately.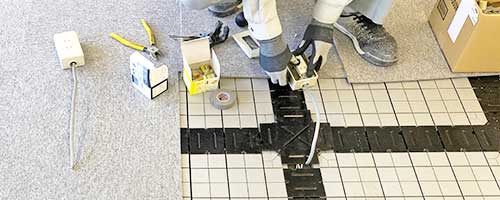 Tatami mat replacement
Please leave tatami mat replacement in Japanese style rooms to us.
There are three ways to replace tatami mats:
1. Uragaeshi – Turn the top surface of the tatami mats over to the other side.
2. Omotegae – Resurface the top of the tatami mats
3. Shincho (New) – Completely change the old tatami mats
The ideal time for each is:
1. Uragaeshi – in about 2 to 5 years
2. Omotegae – after 5 years
3. Shincho (New) – between 10 to 15 years.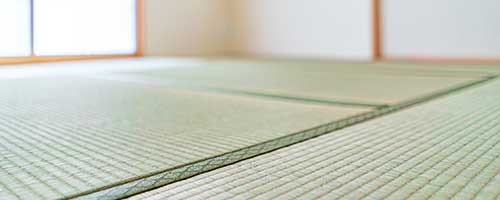 Screen door replacement
Flies, mosquitoes and other insects are troublesome during the hot summer season. These insects can enter homes and offices through holes in door or window screens. With Zaferan, screens can be completely replaced.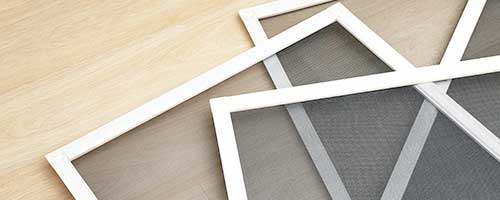 Recycled product sales
We sell recycled products at our Zaferan Kasukabe store. There you can find household items, company or store equipment, and restaurant and kitchen items, etc. Please contact us by phone before visiting the store.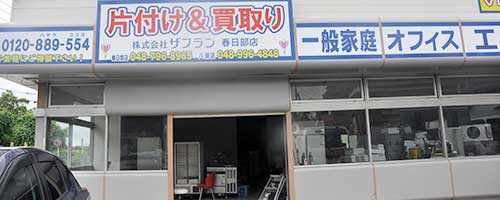 Transport
Please contact Zaferan for the transport of large quantities of personal belongings, home furniture and appliances or office equipment (desk, lockers, IT equipment, etc.). Zaferan has an assortment of light trucks, wagons, flat body 3t / 4t and box trucks 2t / 4t. Of course, drivers are provided.

Please contact Zaferan for projects other than stated above. Your wishes may be fulfilled.
Let us be the first you call for your needs. We will assess your needs and set a reasonable estimate for our services.
Zaferan Co., Ltd.
| | |
| --- | --- |
| 社名 | Zaferan Co., Ltd. |
| CEO | Ataru Akiba |
| Main store | 〒340-0816 4-12-18 Central, Yashio City, Saitama Prefecture |
| Kasukabe store | 〒344-0122 1996-1 Shimoyanagi, Kasukabe City, Saitama Prefecture |
| Business content | Remodeling / purchasing / electrical work / remodeling incidental business |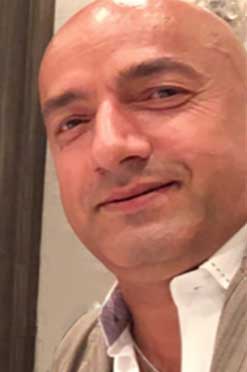 CEO Ataru Akiba
Corporate history
1992
Opened Akiba Industry in Nishiokitama-gun, Yamagata Prefecture.
Started electrical (outside / extension) work and slope work (slope formation).
2001
Construction work (general housing remodeling / painting industry) started
2012
Moved to 4-12-18 Central, Yashio City, Saitama Prefecture.
Start new kitchen equipment purchase, sale and restaurant remodeling.
2019
Changed to a corporate organization and changed its trade name to Zaferan Co., Ltd.
2022
Opened Kasukabe store and started cleanup business.
Contact
If you have any questions about us, please use the form below.
* is a required input item.
You can select multiple inquiry items.
The person in charge will contact you later.
Let us be the first you call for your needs. We will assess your needs and set a reasonable estimate for our services.